MAJA, Baltimore's popular jewelry, textiles and housewares retailer is upping the ante on their style quotient. They're boosting their already established reputation for one-of-a-kind, graphic, cultural designs with new Sandy Baker Jewelry pieces.
Colorful, quirky and already amassing a cult following, expect to find selections from Sandy Baker's Grafilage collection in-store. Baker's hand-carved mother of pearl and abalone medallions, like the Botero, Rapunzel, Odalis and Hoopla are also now stocked.
Mary Butler, owner of MAJA, says the store's tagline is "A nomadic journey in wearable and collectible artistry" — a perfect description for Baker's motion-driven, customizable, high-quality accessories. Butler's voice kicks up a notch when she talks about the new designs
"[Customers] love the sculptural look and the light weight. Once they put on the earrings on, they're hooked," she says.
Sandy starts with a base of the finest grade of sterling silver available to construct a piece's frame or skeleton. Then, through patented processes, she adds signature color and embellishment. The result is an individualistic design that lets light and shadows play in the wearer's hair and neck. Opening night artists to chief operating executives snap them up.
It's easy enough to see why, Butler says. "These are no ordinary earrings here—they're special!"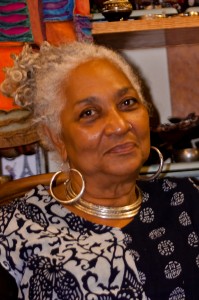 ---
Leave a Reply