Accessory Elegance
By Renee Minus White
Fashion & Beauty Editor
The New York Amsterdam News
In a design lane of her own, New York's award-winning jewelry designer Sandy Baker always presents an exquisite jewelry collection that's "Different by Design."
In business for over 30 years, this season Baker introduces a new distinctive collection of one-of-a-kind crosses. These exceptional pieces will be showcased at the Studio Museum in Harlem. Her bold crosses are on the cutting edge. Baker is known for her flair for marrying artistry and elegance. For this collection, her inspiration was her organic inlaid mosaic designs, which she used to create these memorable collectible pieces.
Baker's love of world cultures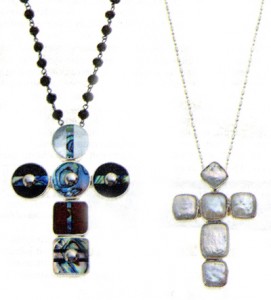 inspires her work. She also works with nontraditional combinations of materials, including South Sea abalone, freshwater pearls, non-endangered sponge coral and horn. The crosses hand from sparkling, long strands of faceted spinel or sterling silver chains.
"My approach to design has always been about finding the balance between where form meets function. It's where true art lies," explained Baker. "When a man or woman wears one of these crosses, I want them to feel their heart and soul is making spiritual connection as they are wearing of life's small luxuries."
Over the years, Baker has carved a distinctive niche in all corners of the globe. Her work is available in better gift shops, galleries and museum stores.
---
Leave a Reply